About Us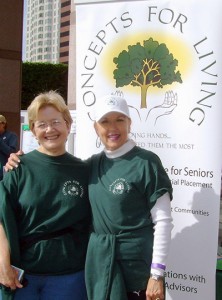 Concepts for Living is a FREE, most unique "boutique" residential placement service for seniors, those vital and independent, as well as those in need of assisted living, dementia or Alzheimer's care.
We at Concepts have a mission, not just a convenient byword, but a viable goal. It was born from a vision, a history in hospice, the need to serve a much forgotten and ignored community, our seniors. What was a family to do when a loved one could no longer stay in their own home safely, could not live with their family for any number of reasons and definitely did not belong in a nursing home….or, most often referred to as "the home"? By discovering the world of independent and assisted living, a new life, a good life begins.
We are here to find the right place and enable that "good life". We are here to represent the most respected retirement and assisted living communities and senior homes in the vast market of available places. They are carefully chosen and personally, physically visited and evaluated. They must live up to our standards of excellence in order that they be represented by us. They are graded on the most important "FOUR Cs":
Cleanliness
Care
Compassion
Compatibility
And so it goes…each day we discover new, beautiful, wonderful places to call home. Each day we meet new, beautiful, wonderful seniors who need these places and each day, as we begin together, we strive to make "the match". We bring smiles, new energy, dignity to the elder, comfort to the family and a better, happier more enriched life to all. That is the goal. That is our daily endeavor. And we accomplish that. Welcome to our world.